Pacific Summary. 4 February 2017 - 5 February 2017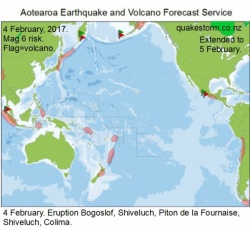 Click to Enlarge

Magnitude 6 risk areas are New Zealand, Tonga, Western Banda Sea, Flores Sea, Sumatra, Himalayas, Celebes Sea, Honshu, Kuril Islands, Southern Alaska, Titicaca, South of Titicaca, South Sandwich Islands, Eastern Mediterranean Sea.
Quakes may be infrequent.
Volcanic activity may increase.
Bogoslof, Piton de la Fournaise, Etna, Sinabung, Colima.
The volcanic trend is likely to continue at the expense of quakes.

Update. 4 February 8.30pm
Eruption Bogoslof, Piton de la Fournaise, Shiveluch, Colima.
Martinique/Caribbean Sea 5.7
The forecast period is extended to 5 February.
Volcanoes were active with many location hits.
No news for Etna, the volcano is quiet.
The biggest quake today was the Eastern Caribbean 5.7 ...a good location hit for the 3 February forecast and slightly frustrating for forecasters. The area is seldom forecasted and the quake was only 8 hours outside the period.
Pacific quakes have been quiet since the 22 January Bougainville 7.9 and volcanoes have been active since then.
No news for Tongan volcano Hunga Ha'apai. The undersea eruption seems minor and may have ended for now.

Update. 5 February 11.45am
Southern Mexico, Kermadec Islands, Eastern Solomon Islands, Italian Apennines are added to Mag 6 risk areas.
Apennines are low confidence, the signal showing may be related to Etna.
Southern Mexico signal may also be volcanic.

Summary.
4 February.
Eruption Bogoslof, Shiveluch, Sinabung, Colima.
Martinique 5.7 0854NZST.
Pacific quakes were under Mag 6 during the period.
The largest global quake, Martinique 5.7 was a risk location on 3 February.
The volcanic trend shows no sign of ending.



Content © Roary Arbon 2013 - 2016
Website Design by Go Tech.