Pacific Summary. 6 February 2017 - 8 February 2017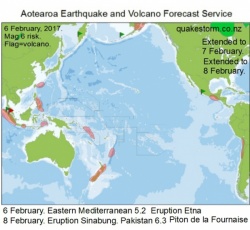 Click to Enlarge

Magnitude 6 risk areas are New Zealand, Kermadec Islands, Northern Vanuatu, Santa Cruz Islands, Banda Sea, Sumatra, Southern Philippines, Taiwan, Southern Alaska, Southern Mexico, Titicaca, South of Titicaca, Valparaiso, Eastern Mediterranean, Italian Apennines.
Quakes may continue to be subdued.
New Zealand is higher risk.
Volcanic activity may increase.
Bogoslof, Shiveluch, Sinabung, Colima.
The period is likely to be extended.

Update. 6 February 11.45pm
Aegean Sea 5.2
Eruption Etna.
The forecast period is extended to 7 February.
The Pacific went quiet today but the Mediterranean proved to be the hotspot.
The eruption of Etna is only mildly strombolian at the moment but volcanic activity has a tendency to rise near the end or soon after a quake period.
More Mediterranean action is possible, including Mag 4 Pyrenees.
An isolated big Pacific quake is also possible, conditions are still winding up.
New Zealand remains high risk.

Update. 8 February 11.45am
8 February.
Eruption Sinabung, Etna
Southwest Pakistan 6.3
The forecast period is extended to 8 February.
Eastern Java is added to Mag 6 risk areas.
The first Mag 6 in several days has arrived in a remote region of Pakistan.
Aegean Sea remains an obvious global hotspot and New Zealand a Pacific hotspot.
More volcano data may arrive later, the period has been volcanic so far.
Solar conditions are weakening as the end of the period approaches so quakes will remain infrequent.
A big isolated quake is still possible, including New Zealand.

Summary.
6 February.
Aegean Sea 5.3, 5.3 , 5.3
Eruption Etna.
Six eruptions Sinabung.
8 February.
Pakistan 6.3
Eruption Etna, Piton de la Fournaise.
The period was very moderate for quakes, just the Pakistan 6.3 in a remote area.
Volcanoes were going off.



Content © Roary Arbon 2013 - 2016
Website Design by Go Tech.