Pacific Summary. 9 February 2017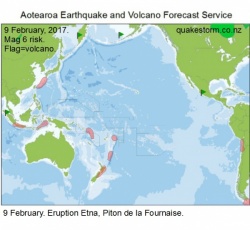 Click to Enlarge

Magnitude 6 risk areas are New Zealand, Kermadec Islands, Tonga, Northern Vanuatu, Santa Cruz Islands, Banda Sea, Java, Southwest of Japan, South of Titicaca, South Sandwich Islands, Aegean Sea.
Volcanic activity may increase.
Sinabung, Piton de la Fournaise, Shiveluch, Bogoslof, Colima.
New Zealand is higher risk.
Quakes are likely to be infrequent as the end of the wider quake period approaches.

Summary.
Romania 4.7, Apennines 4.1, Dolomites 4.0, France 3.3
South of Kermadecs 5.0 8.26pm
Eruption Etna, Piton de la Fournaise.
Pacific quakes were under Mag 6 as the volcanic trend continues.
The 6 February outlook for more Mediterranean action was justified today as Europe swarmed, timing was a little off but quakes have been tricky with the low signal last few days.
New Zealand as a Pacific Mag 6 risk area seems sensible even though no big local quakes today.
The South of Kermadecs 5.0 has created a swarm of smaller quakes into all local risk locations. Luckily solar conditions were weak at the time.
Weak lunar influence is present, 11pm approx. higher risk times but requiring moderate solar conditions before lunar modulation can occur.
More postings on Facebook/Roary Arbon.


Content © Roary Arbon 2013 - 2016
Website Design by Go Tech.