Pacific Summary. 10 February 2017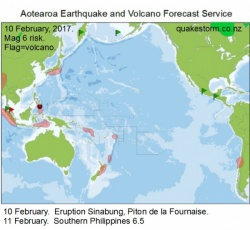 Click to Enlarge

Magnitude 6 risk areas are New Zealand, Kermadec Islands, Tonga, Northern Vanuatu, Santa Cruz Islands, Banda Sea, Sumatra, Myanmar, Eastern Himalayas, South of Philippines, Honshu, Valparaiso.
Volcanic activity may increase.
Sinabung, Bogoslof, Colima, Fuego, Etna, Piton de la Fournaise.
Quakes are likely to remain below Mag 6 as solar quake driving conditions go below the threshold for big quakes to occur.
Volcanoes may still have enough pressure to erupt.

Summary.
Southern Philippines 6.5 3.03am
Quakes were quiet unless you live in the Southern Philippines.
The Celebes Sea target was very close and a good result...tracking quakes is harder in low conditions.
Eruptions at Sinabung, Piton de la Fournaise.

Content © Roary Arbon 2013 - 2016
Website Design by Go Tech.