Aotearoa Summary. 10 February 2017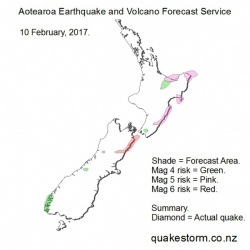 Click to Enlarge

Magnitude 6 risk areas are Culverden, Kaikoura, Seaward Kaikouras, Lower Clarence, Ward, Cape Campbell, North of Cape Campbell.
Magnitude 5 risk areas are Eketahuna, Dannevirke, Waipukurau, Cape Kidnappers, Northern Hawkes Bay, Wairoa, East Cape, Northeast of East Cape, Opotiki, Whakatane.
Magnitude 4 risk areas are Fiordland, Mt Cook, Haupiri River, West of Masterton, Rotorua.
Solar quake driving conditions are falling below the threshold for driving quakes.
A very late quake is possible, the 9 Feb. South of Kermadecs 5.0 and following local quake swarm may still have the North Island under pressure for another day.
Volcanoes quiet.

Update. 10 February 10.30am
Solar quake driving conditions have slightly risen today.
Unfortunately one critical dataset shows new activity is still possible in New Zealand.
Moderate lunar modulation makes for potentially dangerous conditions...if solar conditions stay steady then a big quake is possible.
Similar conditions existed during the Culverden 7.8 but bigger.
Higher risk times are 11-12am and 11-12 pm along NZ East Coast.
Confidence=low.

Update. 10 February 10.00pm
Seaward Kaikouras 3.9 1.08pm
Solar and lunar conditions are present tonight. Quakes are possible.
Forecasted areas Kermadec Islands, Tonga, Santa Cruz Islands, New Zealand are showing signs of pressure.

Summary.
Seaward Kaikouras 3.9
Mt Ruapehu 1.3
Luckily local quakes stayed quiet despite a few hours period of moderate solar quake driving conditions and lunar modulation.
The Southern Philippines 6.5 occurred during this time.






Content © Roary Arbon 2013 - 2016
Website Design by Go Tech.