Pacific Summary. 13 February 2017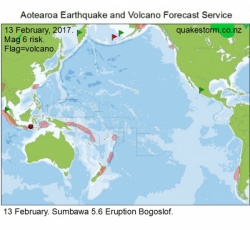 Click to Enlarge

Magnitude 6 risk areas are New Zealand, Kermadec Islands, Tonga, Vanuatu, Solomon Islands, Eastern Papua New Guinea, Banda Sea, Bali, Sumatra, Eastern Himalaya, Taiwan, Southern Alaska, Vancouver Island, Southern Chile, Western Turkey.
Volcanic activity may increase.
Bogoslof, Colima, Popocatepetl, Shiveluch, Sinabung, Etna, Piton de la Fournaise.
A switch from volcanoes to quakes may be underway.
The forecast may have timing issues, quakes may be absent.
Kermadec Islands, New Zealand are higher risk.
Forecast confidence =low.

Update. 13 February 2.00pm
Western Turkey 5.2
This forecast has some timing issues.
Solar quake driving conditions are weak and unlikely to drive big quakes.
Kermadec Islands, New Zealand, Sumatra seem higher risk in the event of some action.
Volcanoes are quiet.

Summary.
Sumbawa 5.6
Eruption Bogoslof, Piton de la Fournaise.
Quakes were below Mag 6.
The Sumbawa 5.6 was the biggest and reflected the inclusion of Bali as a risk area.
Indonesia is very active.





Content © Roary Arbon 2013 - 2016
Website Design by Go Tech.