Pacific Summary. 17 February 2017 - 20 February 2017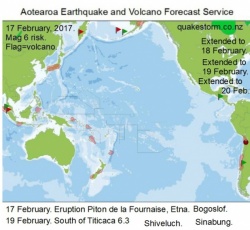 Click to Enlarge

Magnitude 6 risk areas are New Zealand, Kermadec Islands, Santa Cruz Islands, New Britain, Celebes Sea, Java, Northern Sumatra, Southern Honshu, Southern Alaska, Titicaca, Central Chile, Aegean Sea.
Volcanic activity may increase.
Bogoslof, Sinabung, Pacaya.
Moderate quake driving conditions are here.
Southern hemisphere may be more active next few days as conditions build.
Conditions seem to have switched away from volcanoes to quakes.

Update. 17 February 11.00pm
The forecast period is extended to 18 February.
Lanin is added to volcanoes.
Solar quake driving conditions have been slowly building today but no action yet.
The estimation that volcanoes have given way to quakes is low confidence.
Confirmation of an increase in activity at Piton de la Fournaise along with the arrival of new solar conditions today.
Etna is erupting at a low level, occasional strombolian eruptions for a few days now.
The Central Chile quake risk area has a new player.... stratovolcano Lanin.
Seismic tremor is being recorded by local vulcanologists under Lanin.
The last eruption of Lanin was 2200 years ago.
Will Lanin keep rumbling or will it go quiet?

Update. 19 February 2.00am.
19 February.
South of Titicaca 6.3 1.10am
The forecast period is extended to 19 February.
The South of Titicaca 6.3 came as this forecast was being processed. Good location success.
Titicaca may receive another big quake.
Quakes have been very sluggish during the early part of the extended forecast period, conditions seem to be mostly volcanic.
Bogoslof is confirmed for an eruption on 17 February. Bogoslof may erupt again next few days.
Unconfirmed report for a big eruption at Colima.
The forecast period is likely to run for a few days yet, conditions are still slowly winding up.

Update. 19 February 10.30pm
The forecast period is extended to 20 February.
Vanuatu is added to Mag 6 risk areas.
Pacific quakes were under Mag 6.
Sinabung is very active, many eruptions last few days.
Piton de la Fournaise, Sabancaya active.
No news for Lanin, an eruption seems unlikely.
The period is very volcanic so quakes are likely to remain subdued.

Summary.
17 February. Eruption Bogoslof, Etna, Piton de la Fournaise
18 February. Eruption Bogoslof, Piton de la Fournaise, Shiveluch, Sinabung.
19 February. Eruption Shiveluch, Piton de la Fournaise. South of Titicaca 6.3
20 February. Eruption Sinabung, Shiveluch, Bogoslof. East of Tokyo 5.5
Volcanic activity has ruled the extended forecast period so far.
Multiple eruptions from Sinabung and many moderate quakes in North Sumatra.
Bogoslof has had four big eruptions.
Piton de la Fournaise is still chugging out lava, travelling in tubes.
The period has at least two days to go but the forecast map is getting crowded so a new map will be offered with a few changes.
Volcanic activity seems likely to dominate the next few days.
No data for Lanin...an eruption seems very unlikely. A post soon on Facebook/Roary Arbon will explain why.
Quakes were very subdued and difficult to track but good location success South of Titcaca 6.3 and the slightly smaller East of Tokyo 5.5.





Content © Roary Arbon 2013 - 2016
Website Design by Go Tech.