Pacific Summary. 21 February 2017 - 23 February 2017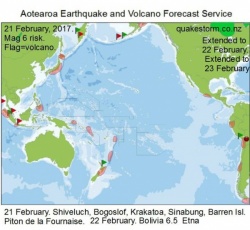 Click to Enlarge

Magnitude 6 risk areas are New Zealand, Kermadec Islands, Northern Tonga, Northern Vanuatu, Eastern Solomon Islands, New Britain, Western Java, Northern Sumatra, South of Philippines, Southern Philippines, Honshu, Northern Peru, Titicaca, South of Titicaca, Concepcion.
Volcanic activity may increase.
Bogoslof, Sabancaya, Shiveluch, Piton de la Fournaise, Sinabung.
Quakes may remain subdued.
Activity may increase sharply on 22 February.

Update. 21 February 11.30pm
Northern Tonga 5.4
Eruption Bogoslof, Shiveluch, Sinabung, Krakatoa, Barren Island, Piton de la Fournaise.
The forecast period is extended to 22 February.
Quakes were subdued, the biggest Tonga 5.4 squarely in a risk area.
The volcanic period is now one of the strongest observed by this Service....volcanic activity is everywhere including New Zealand Volcanic Plateau.
The not often forecasted Western Java had no quakes but Krakatoa is in the Sunda Strait between Java and Sumatra.
Steady volcanic activity is expected to continue until late 22 February when conditions may increase.

Update. 22 February. 8.30am
Bolivia 6.5
The 600km deep quake has caused no damage at the surface.
Data shows an eruption may be underway in the Kermadec Islands or Tonga.
News may be a day or two coming through or if the eruption is under the sea there may never be confirmation.
New solar conditions are expected late in the day.

Update. 23 February 12.30am
The forecast period is extended to 23 February.
Mexico, Hokkaido are added to Mag 6 risk areas.
Quake activity has been sluggish during the period and likely to remain subdued.
Volcanoes were mostly quiet.
Eruption Sinabung, Piton de la Fournaise.
A short strong burst of solar quake and volcano driving conditions are expected at the time of this posting.
Volcanoes may reignite.

Summary.
22 February. Bolivia 6.5
Eruption Sinabung, Piton de la Fournaise, Shiveluch, Etna, Bogolsof, Sabancaya, Krakatoa.
The only Mag 6 quake was squarely in a risk area.
Volcanoes were very active.
New Zealand Volcanic Plateau wasn't exempt from the big volcanic spell.
No eruptions but plenty of tremor at Turangi, Ruapehu, Taupo.
Kermadecs, Fiji, Tonga were very stressed. A brief undersea eruption may have occurred in addition to many quakes...Raoul 5.1, Louisville 5.2, 6.9, Fiji 5.9, Tonga 5.4.
The big Louisville 6.9 came very late on 25 February.
The forecasted new solar conditions for late 22-early 23 February didn't arrive until late 23 February, driving the early 24 February Arthurs Pass sequence and the later 25 February Louisville 6.9.
White Island conditions are very similar to the early 2013 successful forecasts for the volcano.
More Southwest Pacific action seems likely from 27 February, peaking 1 March.





Content © Roary Arbon 2013 - 2016
Website Design by Go Tech.