Aotearoa Summary. 1 March 2017 - 2 March 2017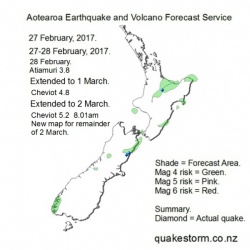 Click to Enlarge

2 March 1.00pm
Magnitude 4 risk areas are Fiordland, Arthurs Pass, Culverden, Hanmer, Seaward Kaikouras, Kaikoura, Ward, Cape Campbell, North of Cape Campbell, Northern Cook Strait, South of Taranaki, Eketahuna, Dannevirke. Porangahau, Wairoa, Northern Hawkes Bay, Northeast of East Cape, East Cape, White Island, Opotiki, Rotorua, Murupara, Taupo, Tokoroa, Taumarunui, Turangi, Whakatane, Tauranga.
Minor steam eruption White Island possible.
Moderate solar conditions are expected late in the day, building up to 1 March.
The forecast is posted early so may be modified later on 27 February.
Updates may be intermittent next few days.

Update. 27 February 10.00pm
Solar conditions are due to arrive tonight.
The forecast period should have been made for 28 February in addition to late 27 February.
Conditions should strengthen further on 1 March.
Pacific and local quakes have been quiet since the 25 February Louisville 6.9 to the north of the Kermadecs

Update. 28 February 9.30am
Guatemalan volcano Fuego erupted briefly on 25 February as Pacific volcanoes mostly went quiet.
Piton de la Fournaise is still flowing.
Solar conditions are beginning to rise today but much weaker than forecast and not yet strong enough to drive quakes.
Conditions are still expected to pick up strongly on 1 March.

Update. 1 March. 1.00am
28 February. Atiamuri 3.8
The period is extended to 1 March.
The forecasted solar conditions never arrived, a forecasting mistake.
The biggest quake was the Atiamuri 3.8 in the Volcanic Plateau hotspot.
Solar quake conditions are due to pick up late 1 March as the peak of the wider forecast period approaches and continue steadily until 8 March when another peak may occur.

Update. 1 March 8.00am
Offshore Hawkes Bay, Mount Cook are added to Mag 4 risk areas.

Update. 1 March 10.30pm
Cheviot 4.8 10.19am
The forecast period is extended to 2 March.
Local and Pacific quakes were mostly quiet today ahead of the expected arrival of new solar quake driving conditions tonight.
New conditions have arrived on cue tonight.
Quakes may increase.

Summary.
28 February.
Atiamuri 3.8
1 March.
Cheviot 4.8 10.19am
2 March.
Cheviot 5.2 8.01am
The wider forecast period got off to a very slow start.
Quake driving conditions never arrived as forecasted, local and Pacific quakes were subdued as a result.
Global volcanoes were very active at the expense of quakes.
The forecast peak of late 1 March arrived exactly on cue.
This map has been supeseded by a new map from 1.00pm 2 March.



Content © Roary Arbon 2013 - 2016
Website Design by Go Tech.