Pacific Summary. 1 March 2017 - 2 March 2017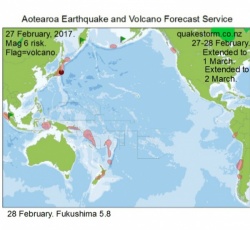 Click to Enlarge

Magnitude 6 risk areas are New Zealand, Kermadec Islands, Fiji, Vanuatu, Solomon Islands, Eastern Papua New Guinea, Banda Sea, Northern Sumatra, Honshu, Southern Kuril Islands, Central Aleutian Islands, Vancouver Island, Central Chile.
Volcanic activity may increase.
Bogoslof, Shiveluch, Sinabung.
Solar conditions may arrive very late and continue to build up to a peak on 1 March.
Updates may be intermittent next few days.
Our apologies for the badly drawn maps...our supercomputer has a problem.

Update. 27 February 10.00pm
The forecast should have been made for 28 February in addition to 27 February.
Pacific quakes have been quiet since the Louisville 6.9.
Volcanoes have been fairly quiet.
New solar conditions are due tonight and should steadily strengthen until 1 March.

Update. 1 March 12.30am
Fukushima 5.8
Eruption Etna, Piton de la Fournaise.
The forecast period is extended to 1 March.
Northern Peru is added to mag 6 risk areas.
The forecast incoming solar conditions never arrived on 28 February, a forecasting mistake.
The most active portion of the extended period is due late on 1 March and could continue until 8 March when another peak in activity may occur.
Quakes were below Mag 6 today, the biggest Fukushima 5.8 was in a risk location.
Eastern Honshu is higher risk on 1 March.
Volcano data is slow as usual coming through.
Piton de la Fournaise is still flowing and vulcanologists at Reunion think the magma chamber under the volcano is refilling quickly.
Etna has finally made mainstream news after several weeks of weak strombolian eruptions with a spectacular blow. (See Facebook/Roary Arbon)
New Zealand remains a Pacific Mag 6 risk.

Update. 1 March 7.45am
South of Valdivia is added to Mag 6 risk areas.

Update. 1 March 10.30pm
The forecast period is extended to 2 March.
Pacific quakes were under Mag 6 today.
The forecasted arrival of new solar conditions for late 1 March has worked perfectly tonight.
Quake activity may follow.

Summary.
2 March.
Cheviot, New Zealand 5.2 8.01am
A new forecast map will be offered 2 March 12.00pm superseding the 1-2 March map.
Pacific quakes were quiet during the period.
Volcanoes roared on 27-28 February then eased off as solar conditions weakened prior to the late 1 March arrival of new conditions.
New Zealand and Southwest Pacific seem to be the new hotspots as quakes take over from eruptions.
Piton de la Fourniase stopped erupting 27 February and may start again late in the quake period on 8 March.
Etna blew a spectacular eruption and a lot of lava after weak strombolian activity for several weeks. The eruption seems to be ongoing.






Content © Roary Arbon 2013 - 2016
Website Design by Go Tech.