Pacific Summary. 2 March 2017 - 4 March 2017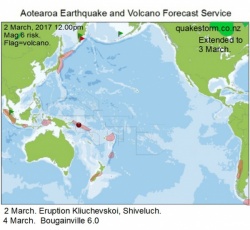 Click to Enlarge

2 March 12.00pm.
Quake activity may increase.
Magnitude 6 risk areas are New Zealand, Kermadec Islands, Fiji, Northern Tonga, Solomon Islands, Banda Sea, Eastern Java, Sumatra, Eastern Honshu, Hokkaido, Kuril Islands, Southern Chile, South Sandwich Islands.
Southwest Pacific is higher risk.
Volcanic activity may increase.
Etna, Piton de la Fournaise, Bogoslof, Kamchatka Peninsula, Sinabung.
Piton de la Fournaise may be inactive until 8 March.
Quakes may occur steadily through to a new peak on 8 March.
This map supersedes the old 1-2 March map from 2 March 12.00pm.

Update. 3 March 1.00am.
Pacific quakes were under Mag 6 on 2 March, not a good sign.
Quakes are winding up.
Kamchatka Peninsula volcanoes Kliuchevskoi and Shiveluch erupted.
Piton de la Fournaise is quiet but may be recharging for another eruption in a few days.
Etna is active but no big eruptions since the 27 February spectacular blow.
Quakes may be infrequent.
Possibility Mag 7 Pacific.
Southwest Pacific is higher risk.

Summary.
4 March. South of Bougainville 6.0
Volcanoes dominated the period.
No forecast was offered for 4 March.
The Southwest Pacific turned out to be the hotspot and may continue this way until the period ends.

Content © Roary Arbon 2013 - 2016
Website Design by Go Tech.