Aotearoa Summary. 3 March 2017 - 4 March 2017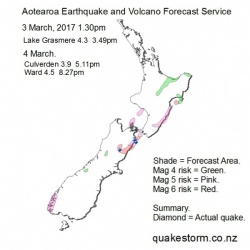 Click to Enlarge

3 March 1.45pm.
Magnitude 6 risk areas are Culverden, Cheviot, Hanmer, South Awatere Valley, Seaward Kaikouras, Kaikoura, Cape Campbell, Hawkes Bay.
Magnitude 5 risk areas are Fiordland, Ward, South of Wellington, Northern Cook Strait, D'Urville Island, South of Wanganui, Eketahuna, Dannevirke, Waipukurau, Porangahau.
Magnitude 4 risk areas are Mount Cook, Arthurs Pass, Wairoa, Mahia, East Cape, Opotiki, Whakatane, Rotorua, Taupo, Murupara.
Volcanoes quiet.
Quakes are likely to be infrequent.
New Zealand, Solomon Islands are higher Pacific risk.

Summary.
3 March.
Lake Grassmere 4.3 3.49pm
4 March.
Central Hawkes Bay 3.7 10.47am
Culverden 3.9 5.11pm
Ward 4.5 8.27pm
This forecast was posted after the 5.53am Hawkes Bay 4.5.
Quakes eased 3-4 March during the less active central part of the wider 1-8 March quake period.
A more active period is expected on 5 March and possibly on 8 March with occasional activity 6-7 March.
A Pacific forecast wasn't offered due to time commitments and slow internet.
The 4 March 3.58pm Bougainville 6.0 was exactly in a Pacific higher risk area.


Content © Roary Arbon 2013 - 2016
Website Design by Go Tech.