Quake Summary. 14 March 2017 - 21 March 2017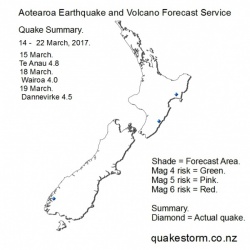 Click to Enlarge

Aotearoa Summary.
15 March.
Northwest Arm Te Anau 4.8 1.23pm
18 March.
Wairoa 4.0 9.22am
19 March.
Southeast of Dannevirke 4.5 9.09am
Isolated Mag 4 quakes have continued following the very long 5-12 March quake period.
A new quake period begins 23 March.
New Zealand is still highly charged so Mag 6 seems possible.

Pacific Summary.
13 March.
Northwest of Sumatra 6.0
18 March.
Etna eruption.
Pacific quakes and eruptions have fallen away following the long 5-12 March quake period.
The sudden eruption of Etna created a lot of lava and had people running for their lives.
Volcanic activity typically follows quake periods so the 18 March Etna eruption is a possible late fit to the 5-12 March period.
Cyclone Enawo got to Cat 4 on 9 March, the peak of the period before delivering Madagascar the biggest storm in 13 years.
The vanilla crop was destroyed and major flooding on the eastern side while the storm broke a long drought on the western side of the huge island.
A new quake period begins 23 March.
March and April are likely to be active months.

Update. 21 March 10.00pm
Local quakes were under Mag 4 on 20/21 March as solar quake driving conditions faded away following the 5-12 March quake period.
Pacific quakes were under Mag 6 and eruptions have ceased since the 18 March eruption of Etna.
The new quake period expected on 23 March has arrived early.
A new forecast for 22 March will be posted soon.



Content © Roary Arbon 2013 - 2016
Website Design by Go Tech.