Pacific Summary. 22 March 2017 - 27 March 2017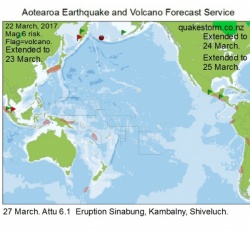 Click to Enlarge

Magnitude 6 risk areas are Macquarie Island, Vanuatu, New Britain, Papua New Guinea, Banda Sea, Northern Sumatra, Guatemala, El Salvador, Nicaragua, Northern Colombia, Southern Ecuador,
South of Titicaca, South of Valdivia, Trinidad, Karakoram.
Volcanic activity may increase.
Sinabung, Shiveluch, Bogoslof, Latin America.
Volcanoes have dominated for several weeks over quakes and could continue this way.
The forecast period is likely to be extended.

Update. 23 March 12.00am
22 March.
Bali 5.7
The forecast period is extended to 23 March.
Quakes were below Mag 6 but are winding up to a possible moderate peak on 25 March.
The Bali 5.7 was 130 km deep but directly under Denpasar and strongly felt.
No volcano data.

Update. 24 March 12.30am
Pacific quakes were below Mag 6 and no apparent eruptions.
A switch from volcanoes to quakes may be underway.
The forecast period is extended to 24 March.
Solar quake driving conditions were very moderate but steady so pressure is building.
Southern Honshu is added to Mag 6 risk areas.

Update. 24 March 11.00pm
Pacific quakes and volcanoes were quiet on 24 March as solar quake driving conditions stopped building up.
25 March may bring an isolated big quake but the forecast is low confidence.
Volcanoes are quiet.

Summary.
27 March.
Attu/Aleutian Islands 6.1
Eruption Kambalny, Sinabung, Shiveluch.
The dearth of big Pacific quakes continues...only one Mag 6 and very late.
Volcanoes continue to dominate, the late eruptions fitting the general rule that eruptions follow near the end or soon after quake periods.
Remote Kamchatka Peninsula provided a new volcanic player, Kambalny is at the southern tip.
Many Pacific volcanoes are throwing ash continuously, the increasing trend may have long term implications for the solar driven weather changes already underway for several months.
See Facebook/Roary Arbon for weather news being under reported or ignored by mainstream media.
Volcanoes have a cooling effect on weather and the increasing volcanic trend seems likely to accelerate the dramatic global weather shifts.
Iceland quake activity is increasing and an eruption seems possible next few months.
Hawaiian volcano Kilauea and nearby Mauna Loa are quiet at the moment but that could change next months.




Content © Roary Arbon 2013 - 2016
Website Design by Go Tech.