Pacific Summary. 30 March 2017 - 31 March 2017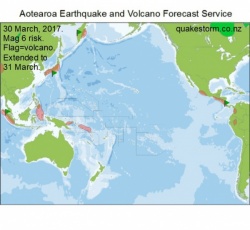 Click to Enlarge

Magnitude 6 risk areas are Kamchatka, Honshu, Southern Philippines, Celebes Sea, Molucca Sea, Ceram Sea, Sumatra, Eastern Himalayas, Eastern Solomon Islands, Costa Rica, Northern Colombia, Northern Peru.
Volcanic activity may increase.
Kambalny, Kliuchevskoi, Shiveluch, Honshu, Sinabung, Turrialba.
Volcanoes seem likely to dominate the period.
The period is likely to be extended for several days.

Update. 30 March 10.30pm
Pacific quakes were under Mag 6.
No data for eruptions.
The forecast period is extended to 31 March.
Southern Mexico, New Britain are added to Mag 6 risk areas.
A slow buildup is underway.
The forecast period is likely to be extended.

Summary.
Pacific quakes and eruptions were quiet on 31 March.
Many volcanoes were hot including Etna.
Quake conditions were quiet until a new forecast period on 3 April.
Volcanoes continued to erupt or throw ash.



Content © Roary Arbon 2013 - 2016
Website Design by Go Tech.