Aotearoa Summary. 3 April 2017 - 4 April 2017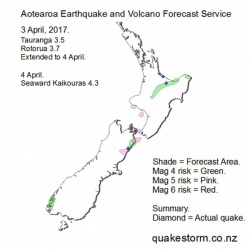 Click to Enlarge

Magnitude 5 risk areas are Culverden, Cheviot, Seaward Kaikouras, Ward, Cape Campell, Northeast of Cape Campbell, Northern Cook Strait, Southwest of Wanganui, South of Taranaki.
Magnitude 4 risk areas are Fiordland, Tapuaenuku, Lower Awatere Valley, Taumarunui, Tokoroa, Rotorua, Opotiki, East Cape.
Quakes are likely to be infrequent but higher magnitude is possible next two days.
Location confidence=low.
Volcanoes quiet.

Update. 3 April 11.30pm
Tauranga 3.5 10.10am
Rotorua 3.7 9.19pm
The forecast period is extended to 4 April.
Quakes were infrequent but good location success despite low magnitudes.
Quakes are likely to remain infrequent on 4 April.
Possibility Mag 6 on 4-5 April.

Summary.
3 April.
Tauranga 3.5 10.10am
Rotorua 3.7 9.19pm
4 April.
Seaward Kaikouras 4.3 2.58am
Quakes were infrequent during the period.
Steady quake driving conditions suggest a long quake buildup and potential large quake next few days with a peak on 7 April.



Content © Roary Arbon 2013 - 2016
Website Design by Go Tech.