Pacific Summary. 3 April 2017 - 4 April 2017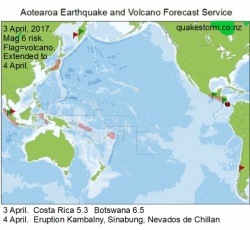 Click to Enlarge

Magnitude 6 risk areas are Fiji, Tonga, Eastern Solomon Islands, Banda Sea, Molucca Sea, Western Java, Sumatra, Honshu, Southern Mexico, Guatemala.
Volcanic activity may increase. Sinabung, Kambalny, Kliuchevskoi, Shiveluch, Fuego, Turrialba, Etna.
Volcanoes are likely to dominate the period, quakes may be infrequent.
The period is likely to be extended.

Update. 3 April 11.30pm
Costa Rica 5.3
The forecast period is extended to 4 April.
Pacific quakes were infrequent and below Mag 6 but good location success.
The biggest was on the edge of a forecast area and other location successes at lower magnitudes.
Volcanoes are hot but no eruptions.
Quakes are likely to remain infrequent for the next two days but an isolated big quake is possible.
Possibility Mag 7 Pacific, 4-5 April.
Mag 7 confidence = low.

Summary.
3 April.
Botswana 6.5
4 April.
Eruptions Kambalny, Sinabung, Nevados de Chillan.
A rare big quake in Botswana.
African quake activity has increased this year along with extreme African weather and the eruption of Erta Ale.
More African action is very likely in coming months...along the Great Rift Valley system seems the most likely location.
Many volcanoes are very hot, pluming or in eruption.
Peruvian vulcanologists keep insisting Sabancaya is giving off "sporadic puffs" but probably the volcano has been in constant eruption for weeks.
Low frequency, high magnitude quake conditions could be building to a peak on 7 April.





Content © Roary Arbon 2013 - 2016
Website Design by Go Tech.