Pacific Summary 5 April 2017 - 6 April 2017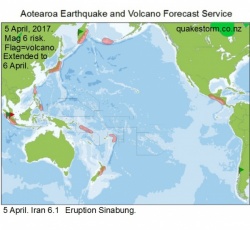 Click to Enlarge

Magnitude 6 risk areas are New Zealand, Tonga, Solomon Islands, Southern Philippines, Sumatra, Northern Philippines, South of Taiwan, Honshu, Kamchatka, Aleutian Islands, Mexico, Guatemala, Costa Rica, Panama, Hindu Kush.
Volcanoes are hot and likely to stay hot.
Sinabung, Kambalny, Kliuchevskoi, Nevados de Chillan.
Quakes are likely to be infrequent but an isolated big quake is possible.
Possibility Pacific or Sumatra Mag 7.
A peak is possible 7 April.

Update. 5 April 10.00pm
Iran 6.1
North Philippines 5.2, 5.1
Eruption Sinabung.
The forecast period is extended to 6 April.
Global quakes were infrequent today as solar conditions weakened.
Solar conditions could easily pick up again as the 7 April peak approaches.
Excellent location success on the biggest quakes.
The Northern Iran 6.1 has caused major damage and close enough to the Hindu Kush risk location to keep the sceptics guessing.
Volcanoes are hot so more volcanic action next two days seems possible.
More info at Facebook/Roary Arbon.

Summary.
Pacific quakes were under Mag 6.
A major lava flow from the flank of Etna continued for several days, ending on 8 April.
Eruptions of Shiveluch, Sinabung on 7 April.
The 8 April Philippines 5.9, 5.5 double and a following Mag 5 sequence over several days was a good fit to the 5-6 April forecast for Philippines.


Content © Roary Arbon 2013 - 2016
Website Design by Go Tech.