Pacific Forecast Updated. 18 April 2017 - 22 April 2017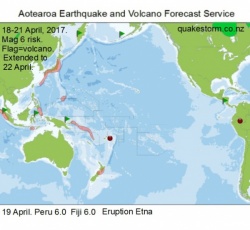 Click to Enlarge

Magnitude 6 risk areas are New Zealand, Vanuatu, Solomon Islands, East Timor, Northern Sumatra, Celebes Sea, Guam, Okinawa, Honshu, Kyushu.
Volcanic activity may increase.
Sinabung, Shiveluch, Manam, Ibu, Poas, Turrialba, Bogoslof.
Quakes and eruptions may peak 18 April and 21 April with less activity 19-20 April.
Pacific is very volcanic at present so may stay volcanic during the period.
This Service may be offline until 21 April, no observations or updates may be possible so risk locations and magnitudes will become lower confidence as the period progresses.

Update. 18 April 10.30pm
The forecasted solar quake driving conditions haven't arrived.
Conditions are picking up a little tonight but still well short of driving quakes.

Update. 19 April 9.45am
19 April.
Peru 6.0
Fiji 6.0
Solar conditions continued to pick up overnight.
The 18 April quake peak came almost a day late...better late than never.
Mag 6 quakes have been sparse since the 22 January Bougainville 7.9...the end of the 6 month Pacific Mag 7 period.
Solar conditions are likely to build steadily next two days.
No volcano data.

Update. 22 April 10.00am
The forecast period is extended to 22 April.
The forecasted 21 April quake peak is here on 22 April.
Solar conditions arrived a day later than forecasted.
Big Pacific quakes have been sparse since the 22 January Bougainville 7.9 so this forecast is a good success so far..
The Etna lava flow resumed on 19 April after four days quiet.






Content © Roary Arbon 2013 - 2016
Website Design by Go Tech.