Aotearoa Summary. 18 April 2017 - 21 April 2017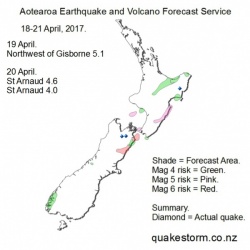 Click to Enlarge

Magnitude 6 risk areas are Culverden, Cheviot, Seaward Kaikouras, Ward, North of Cape Campbell, Cape Campbell.
Magnitude 5 risk areas are Northern Cook Strait, Central Taranaki Bight, Eketahuna, Porangahau, Dannevirke, Waipukurau, Cape Kidnappers.
Magnitude 4 risk areas are Fiordland, Lower Clarence, Waima River, Seddon, Cape Palliser, Wanganui, Opotiki, Urewera, East Cape.
Quakes may peak 18 April and 21 April with less activity 19-20 April.
This Service may be offline until 21 April, no observations or updates may be possible so risk locations and magnitudes will become lower confidence as the period progresses.

Update. 18 April 10.30pm
The forecasted solar quake driving conditions have not yet arrived.
A late arrival is possible, conditions are slowly increasing tonight.
Mag 6 seems unlikely 19-20 April unless solar conditions pick up.
The 21 April quake peak is still expected. Higher magnitudes seem more likely then.

Update. 19 April 10.00am
Rotorua, Tokoroa, Taupo, Taumarunui, Urewera, Upper Hokitika are added to Mag 4 risk areas.
Solar conditions continued to pick up overnight, driving big equatorial quakes.
The 18 April quake peak has arrived a day later than forecasted.
Local quakes were quiet but likely to pick up soon.
Solar conditions are building to the 21 April peak.
Volcanoes quiet.

Update. 19 April 10.00pm
19 April.
Northeast of Gisborne 5.1 3.08pm
Local quakes have picked up today as solar conditions build up.
Quakes may ease a little overnight, picking up again late 20 April.
Cook Strait is higher risk.

Update. 20 April 8.00am
St Arnaud 4.6 4.13am
St Arnaud 4.0 4.51am
More action overnight as the 21 April quake peak approaches.
Solar conditions are steady so quakes can happen anytime.
Volcanoes quiet.

Update. 21 April 9.30am
20 April.
Northeast of Opotiki 3.7 10.38pm
Local quakes went under Mag 4 after the St Arnaud early morning rumbles.
A moderate peak is still possible 21 April despite solar conditions weakening overnight.
An isolated big quake is possible.
Risk areas and magnitudes are unchanged although Mag 6 seems unlikely.

Summary.
19 April.
Northeast of Gisborne 5.1 3.08pm
20 April.
St Arnaud 4.6 4.13am
St Arnaud 4.0 4.51am
Northeast of Opotiki 3.7 10.38pm
21 April.
Lake Te Anau 3.7 10.36pm
22 April.
Mt Cook 3.5 8.00am
Quake peaks have come on 19 April and 22 April, both peaks one day late.
A new forecast map will be posted for 22 April.
A Pacific forecast wasn't offered.
Pacific quakes were under Mag 6 and volcanoes generally hot but no big eruptions.
The lava flow on Etna resumed on 19 April after four days quiet.



Content © Roary Arbon 2013 - 2016
Website Design by Go Tech.