Pacific Summary. 30 April 2017 - 1 May 2017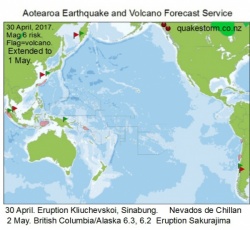 Click to Enlarge

Magnitude 6 risk areas are Guadalcanal, Makira, Banda Sea, Eastern Java, Northern Sumatra, Northern Taiwan, Okinawa, Valparaiso, Hindu Kush.
Volcanic activity may increase.
Sinabung, Manam, Sakurajima, Shiveluch, Nevados de Chillan.

Update. 30 April 11.00pm
Eruption Sinabung, Kliuchevskoi.
The forecast period is extended to 1 May.
Offshore South of Titicaca is added to Mag 6 risk areas.
Solar quake driving conditions are fading today and likely to go below the threshold for quakes to occur later on 1 May.
This forecast was posted too late to capture the 29 April Southern Philippines 6.8. The quake was a reasonable fit to the 24-25 April forecast.
No sign of activity at Sakurajima today.
More Pacific eruptions seem possible on 1-2 May.

Summary.
30 April.
Eruption Sinabung, Kliuchevskoi.
2 May.
Alaska/British Columbia 6.2 12.31am
Alaska/British Columbia 6.3 2.18am
Eruption Sakurajima.
A forecast was posted soon after the 29 April Philippines 6.8.
The British Columbia 6.2, 6.3 double quake came very early 2 May but no location success.
The wider 24 April- 2 May period significantly marked the return of big Pacific quakes, largely absent since the 22 January Bougainville 7.9.
The Bougainville 7.9 marked the end of a six month Pacific Mag 7 period.
Two quakes from the six month Pacific Mag 7 period were in New Zealand.
Good volcano location success.
Global volcano activity has been creeping steadily higher since February. Many volcanoes...Dukono, Sabancaya, Turrialba, Manam, Yasur, Langila and others are constantly emitting ash, pluming but not actually blowing their top off. The forecasts and summaries made by this Service try mostly to pick new activity or volcanoes that are blowing hard but the distinction between different levels of activity becomes blurred.
More volcano data at Facebook/Roary Arbon.

Summary Update.
2 May. Eruption Nevados de Chillan





Content © Roary Arbon 2013 - 2016
Website Design by Go Tech.