Pacific Summary. 6 May 2017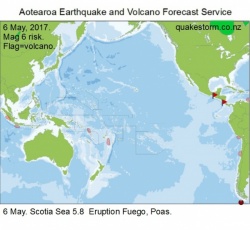 Click to Enlarge

Magnitude 6 risk areas are Northern Vanuatu, South of Java, Southern Sumatra, South of Fiji, Outer Hebrides, Southern Peru, Vallenar, Tajikistan.
Java, Southern Sumatra are higher risk.
The period is likely to last one day.
Forecast confidence = low.
Quakes are unlikely to reach Mag 4 in New Zealand although a Mag 3 swarm is possible.

Summary.
Scotia Sea 5.8
Eruption Fuego, Poas.
Pacific quakes never made it to Mag 6 during the period. Tricky solar conditions.
Guatemalan volcano Fuego was the news. The biggest eruption since 2012 from the regularly erupting volcano.
Costa Rica volcanoes Turrialba and Poas are very active.
Solar conditions were very moderate and unlikely to power up Cyclone Donna. Donna just made it to Cat 4 before weakening again.
Solar conditions are set to fall below the threshold to drive quakes for several days.

Content © Roary Arbon 2013 - 2016
Website Design by Go Tech.