Aotearoa Quake Summary. 6 May 2017 - 7 May 2017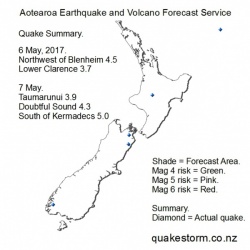 Click to Enlarge

6 May.
Lower Clarence 3.7 1.24pm
Lower Wairau River 4.5 7.53pm
7 May.
Taumarunui 3.9 12.32am
Doubtful Sound 4.3 3.03am
South of Kermadecs 5.0 5.29pm
The Pacific forecast outlook for local quakes to be under Mag 4 but a Mag 3 swarm possible during the period was a mistake.
Local quakes were frequent and made it above Mag 4.
The Lower Wairau 4.5 was widely felt as a short sharp shock mostly.
The media cook up for Cat 3 Cyclone Donna to drift toward New Zealand and cause major damage so late in the season seems slightly unlikely.
Solar conditions have fallen below the threshold for driving quakes or powering up tropical cyclones.
Quakes are likely to subdued for several days ahead of a new quake period.
Pacific activity (if any) may focus on Vanuatu or Alaska.
Local activity (if any) may focus on Cook Strait or Central Taranaki Bight.




Content © Roary Arbon 2013 - 2016
Website Design by Go Tech.