Pacific Summary. 12 May 2017 - 14 May 2017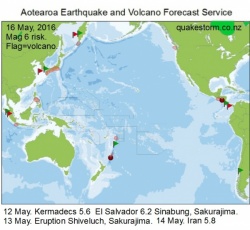 Click to Enlarge

Pacific Forecast. 16 May, 2017.
Magnitude 6 risk areas are Kermadec Islands, Tonga/Ha'apai, Western Java, Northern Philippines, Southern Honshu, Kyushu, Northern Kuril Islands, Vancouver Island, Guatemala, Eastern Turkey.
Volcanic activity may increase. Tonga, Sinabung, Sakurajima, Izu Islands, Shiveluch, Kliuchevskoi, Poas, Nevados de Chillan.
Isolated quake action possible but eruptions less likely 12-15 May.

Summary.
12 May.
Northern Kermadec Islands 5.6
El Salvador 6.2
Eruption Sinabung, Sakurajima.
13 May.
South of Kermadecs 4.6
Eruption Shiveluch, Sakurajima, Turrialba.
14 May.
Iran 5.8
This forecast was made for 16 May but the previous quake period was still active and quakes continued on a decreasing trend until 14 May.
Many forecast locations were hit but timing obviously a mistake.
The offshore El Salvador 6.2 caused no damage.
The eruption of Turrialba is weak, nearby Poas is pluming.
The Iran 5.8 caused a lot of damage and casualties. The forecast was chasing activity in Eastern Turkey.
A new quake period begins early 17 May.


Content © Roary Arbon 2013 - 2016
Website Design by Go Tech.