Pacific Summary. 16 May 2017 - 19 May 2017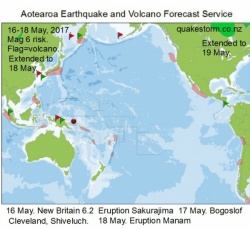 Click to Enlarge

Magnitude 6 risk areas are Tonga, South of Fiji, Solomon Islands, Northern Sumatra, Northern Philippines, Southern Honshu, South of Titicaca, North of Valparaiso, South Sandwich Islands, Turkey.
Volcanic activity may increase. Manam, Sinabung, Sakurajima, Shiveluch, Turrialba, Poas, Etna.
The forecast period will be extended.

Update. 17 May 7.30pm
16 May.
New Britain 6.2
Eruption Sakurajima.
The forecast period is extended to 18 May.
Kermadec Islands, Southern Vanuatu, Southern Banda Sea, Southern Kamchatka Peninsula, Offshore Oregon, Baja California, Mexico are added to Mag 6 risk areas.
Location confidence=low.
The forecast period has begun awkardly.
An increase in solar conditions late on 15 May was much greater than expected.
A forecast was quickly assembled but had mistakes.
The 1.22am New Britain 6.2 arrived 20 minutes before the forecast was posted.
South America was cut off the map.
Solar conditions faded again as quickly as they arrived.
The forecast map has been replaced with the same risk locations and a few new ones.
Solar quake driving conditions are rising again tonight more in line with the outlook from a few days ago.

Update. 18 May 11.30pm
18 May.
Eruption Bogoslof, Cleveland, Shiveluch.
The forecast period is extended to 19 May.
The period has gone volcanic at the expense of quakes.
Bogoslof erupted for the first time in over two months.
Another Aleutian Islands volcano, Cleveland erupted at the same time.
Shiveluch has been very active, major pyroclastic flows and ashfall easily visible from space.
Vulcanologists report that Piton de la Fournaise began to erupt then suddenly stopped but say an eruption is imminent...solar conditions peaked suddenly early 16 May then suddenly faded.
Stronger solar conditions are due over the next two days and look set to peak late on 21 May so an eruption at Piton de la Fournaise seems very likely.
Turrialba and nearby Poas are hot.
Sakurajima is erupting or throwing ash on a daily basis and seems likely to continue.
New Zealand is also rumbling slightly in the Bay of Plenty volcanic zone and White Island could become active in a few days.

Summary.
16 May.
New Britain 6.2
Eruption Sakurajima.
17 May.
Eruption Bogoslof, Cleveland, Shiveluch.
18 May.
Eruption Manam.
The period was very volcanic.
Etna is in constant mild strombolian eruption
Piton de la Fournaise has gone quiet after vulcanologists reported an imminent eruption.
Aleutian Islands have had two eruptions Bogoslof and Cleveland and a Mag 5 swarm.
The remote Papua New Guinea volcano Manam has erupted but data is sparse. Apparently the locals have abandoned the island, fearing the volcano will blow its top again.
Solar conditions weakened on 19 May but a switch in one critical condition sent them back up again in a few minutes just as this summary is posted. Very difficult forecasting conditions.
Volcanic conditions may endure ahead of a new peak late 21 May.





Content © Roary Arbon 2013 - 2016
Website Design by Go Tech.