Pacific Summary. 20 May 2017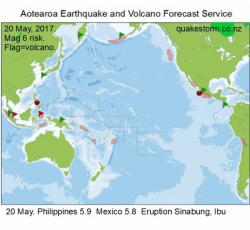 Click to Enlarge

Magnitude 6 risk areas are Tonga, Southern Vanuatu, Eastern Solomon Islands, Southern Banda Sea, Southern Molucca Sea, Northern Sumatra, Aleutian Islands, Offshore Oregon, Baja Calofornia,
Mexico, South of Titicaca.
Volcanic activity may increase.
Manam, Sinabung, Sakurajima, Shiveluch, Bogoslof, Colima, Popocatepetl, Piton de la Fournaise, Etna.
Forecast confidence=low.
Quakes are likely to remain subdued as the big volcanic spell continues.
Solar conditions are very moderate and fluctuating making for low confidence forecasting.
Solar conditions are due to pick up strongly late on 21 May so more eruptions seem likely then.

Summary.
20 May.
Central Philippines 5.9
Offshore Colima/Mexico 5.8
Eruption Sinabung, Ibu.
Quakes were just under Mag 6.
The eruption of North Maluku volcano Ibu was in the South Molucca Sea quake risk location.



Content © Roary Arbon 2013 - 2016
Website Design by Go Tech.