Pacific Summary. 24 May 2017 - 25 May 2017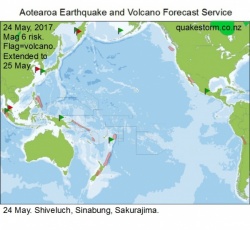 Click to Enlarge

Magnitude 6 risk areas are New Zealand, South of Kermadec Islands, Kermadec Islands, Northern Tonga, Tanna, Solomon Islands, Northern Sumatra, Southern Philippines, Offshore Oregon, Baja California, Titicaca, South of Titicaca.
Volcanic activity may increase.
Louisville, Tonga, Manam, Sinabung, Sakurajima, Kliuchevskoi, Shiveluch, Bogolsof, Popocatepetl, Piton de la Fournaise, Etna.

Update. 24 May 10.00pm
24 May.
Eruption Shiveluch, Sakurajima, Sinabung.
The forecast period is extended to 25 May.
Moderate eruptions on 24 May, quakes went quiet.
Solar conditions were very steady and a slow buildup could still be underway.
Solar conditions are likely to be slow and steady right through a strong lunar period, peaking on 26-27 May.
Possibility Pacific Mag 7 on 26-27 May. Confidence = low.
Vulcanologists at Piton de la Fournaise report the volcano is quiet.
Etna is quiet at the moment.
Sakurajima is erupting almost daily and a bigger eruption could occur 26-27 May.
The forecast period will be extended.

Summary.
24 May.
Eruption Shiveluch, Sakurajima, Sinabung.
25 May.
Aleutian Islands 5.8
The march toward vulcanism continues.
Piton de la Fournaise and Etna showed signs of inflation but no eruption.



Content © Roary Arbon 2013 - 2016
Website Design by Go Tech.