Pacific Summary. 4 June 2017 - 5 June 2017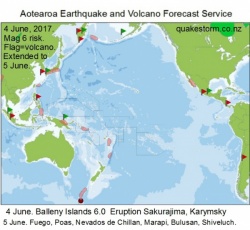 Click to Enlarge

Magnitude 6 risk areas are Macquarie Island, Kermadec Islands, South of Fiji, Santa Cruz Islands, Guadalcanal, Eastern Papua New Guinea, Molucca Sea, Northeast of Taiwan, Southern Honshu, Western Aleutian Islands, Baja California, Eastern Himalayas.
Volcanic activity may increase.
Manam, Sinabung, Sakurajima, Shiveluch, Popocatepetl, Santiaguito, Fuego, Poas, Piton de la Fournaise.

Update. 5 June 12.30am
4 June.
Northwest of Balleny Islands 6.0
Eruption Sakurajima, Karymsky.
The forecast period is extended to 5 June.
Solar conditions arrived on cue very early 4 June.
Conditions quickly faded following the Ballenys 6.0.
Good location success in an infrequently forecasted area.
Moderate volcano activity.
The period may produce some infrequent activity on 5 June before fading away.

Summary.
4 June.
Northwest of Balleny Islands 6.0
Eruption Sakurajima, Karymsky.
5 June.
Eruption Fuego, Sakurajima, Bulusan, Marapi/Sumatra, Shiveluch, Poas.
The decline of quakes at the expense of volcanoes continues.
The Ballenys 6.0 is the closest Mag 6 to the South Magnetic Pole forecasted by this Service in five years. Polar quakes are uncommon.
Volcanoes went off on 5 June.
No eruption was big but the number of new players or volcanoes throwing ash just keeps rising.
No climatologist that we are aware of (except maybe Piers Corbyn) has factored volcanic emissions into their projections.
A big eruption into the stratosphere could send a few more global warming outlooks into the trash can.
The 1991 eruption of Philippines volcano Pinatubo caused an immediate global temperature drop and that was a tiny eruption on the grand scale.
No news for Piton de la Fournaise. The huge shield volcano is highly inflated and a stronger solar period possibly 21 June could send it off.
Conditions look set to settle for several days.
More volcano info at Facebook/Roary Arbon.


Content © Roary Arbon 2013 - 2016
Website Design by Go Tech.