Pacific Summary. 6 June 2017 - 17 June 2017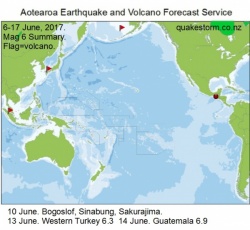 Click to Enlarge

13 June.
Lesbos 6.3
Guatemala 6.9
15 June.
Kermadec Islands 5.9
Eruption Sakurajima, Sinabung, Bogolsof.
No forecast was offered for the period.
Quakes mostly hung below Mag 6 over the 11 day period, possibly justifying no forecast.
The Guatemala 6.9 was a notable exception, quakes are becoming more isolated as the solar cycle advances.
The Lesbos 6.3 was the largest in living memory for locals and levelled several small towns.
Volcanoes were similar to quakes, many hot and pluming but generally no big eruptions.
The Bogoslof eruption was brief.


Content © Roary Arbon 2013 - 2016
Website Design by Go Tech.