Quake Summary. 28 June 2017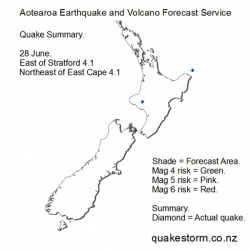 Click to Enlarge

28 June.
East of Stratford 4.1 2.26am
Northeast of East Cape 4.1 2.05pm
Several days of minor quakes in the area have just made it to Mag 4 today.
Good location success from 22-25 June forecast period.
The forecast should have continued with the Mag 5 locations for a couple of extra days.
Also an indication that quakes can occur anytime.
A brief moderate quake spell is possible on 30 June.
East of Stratford and Fiordland are possible risk locations.
A forecast will be posted later.
More info at Facebook/Roary Arbon.

Content © Roary Arbon 2013 - 2016
Website Design by Go Tech.