Pacific Summary. 29 August 2017 - 31 August 2017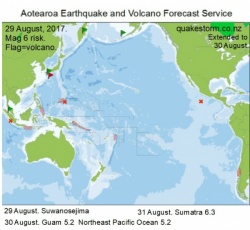 Click to Enlarge

Magnitude 6 risk areas are Northern Tonga, Santa Cruz Islands, Guadalcanal, Bougainville, New Britain, Celebes Sea, Southern Marianas Islands, South of Valdivia, Hindu Kush.
Volcanic activity may increase.
Bogolsof, Kliuchevskoi, Sakurajima, Sinabung.
Forecast confidence=low.

Update. 29 August 8.00pm
Eruption Suwanosejima.
Low confidence is justified...the expected solar quake driving conditions are here but weak.
Quakes are quiet.
Low level volcanic activity continues.
Vulcanologists on the Indian Ocean island of Reunion report the eruption of Piton de la Fournaise continues but at a very low level. Lava is slowly flowing in underground tubes.
Weather is dominating news.
Hurricane Harvey was barely Cat 4 when it crossed onto Texas, USA but still the biggest Gulf of Mexico storm since Katrina in 2005.
Weak but steady solar quake driving conditions may be enough to drive an isolated big Pacific quake on 30 August.
East Java, Central Kuril Islands are added to Mag 6 risk locations.
Low forecast confidence continues.

Summary.
29 August.
Eruption Suwanosejima.
30 August.
Guam 5.2
Northeast Pacific Ocean 5.2
1 September.
Sumatra 6.3
Low confidence forecasting was justified.
Quakes never climbed to Mag 6 and volcanoes were subdued.
The Guam 5.2 was equal biggest Pacific quake on 30 August.
Good forecast location gains at the moment but low Magnitude... sluggish solar quake conditions drive sluggish quake activity.
The forecast was chasing activity in Indonesia but the 1 September Sumatra 6.3 was late and outside the Java risk location.
The heavy rain dropped by Hurricane Harvey was entirely due to the slow moving nature of the storm causing the rain to fall in one place and its position right on the Texas coast where it could keep drawing moisture out of the Gulf of Mexico.
Solar activity is the major driver of weather and climate on Earth and over which mankind has no control whatsoever.
Hurricane Harvey had nothing at all to do with any claimed man made global warming, atmospheric heating, hotter seas, more atmospheric water retention, heavier rain etc.
More rain fell in Texas during a major storm in 1935 and there was no "global warming" then.


Content © Roary Arbon 2013 - 2016
Website Design by Go Tech.