Aotearoa Summary. 2 September 2017 - 5 September 2017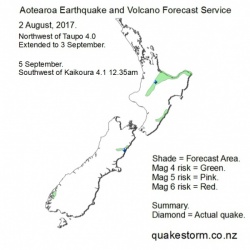 Click to Enlarge

Magnitude 4 risk areas are Lake Te Anau, Culverden, Seaward Kaikouras, Upper Hutt, Eketahuna, Dannevirke, Waipukurau, East Cape, Opotiki, Whakatane, Tauranga, Rotorua, Tokoroa, West of Taupo, Taumarunui.
Volcanoes quiet.
The forecast period is likely to be extended.

Update. 3 September 11.30am
2 September.
Northwest of Taupo 4.0 11.49pm
Little Ice Age weather conditions are also bringing some challenges to quake forecasting.
Solar quake driving conditions arrived on time and normally would produce more activity.
The general slowdown in solar activity as the sun pushes toward a deep solar minimum in a couple of years requires downward adjustment to the forecasts.
Good location success despite few quakes.
Solar conditions are moderate but steady.
Isolated Mag 4 quakes are possible on 3 September.
The forecast map header reads 2 August and should read 2 September.
Forecasts aren't available on quakestorm.co.nz for a day or two due to minor technical problems.

Update. 3 September 11.30pm
The forecast period has probably ended in New Zealand.
Solar quake driving conditions are weakening as the period closes.
Pacific equatorial quakes seem possible but local quakes unlikely on 4 September.

Summary.
2 September.
Northwest of Taupo 4.0 11.49pm
5 September.
Hundalees/Southwest of Kaikoura 4.1 12.35am
Sections of this forecast weren't updated on quakestorm.co.nz due to a technical problem. The forecast was updated on the Facebook link to the page and also on Facebook/Roary Arbon
Quakes were sluggish at the start of the period but the far west risk locations worked and the Northwest of Taupo 4.0 met the forecast profile perfectly.
Local quakes continued the sluggish trend of August, never reaching any strength.
Very moderate but persistent solar quake driving conditions generated a very late quake in the Hundalees early 5 September.
The August outlook for quakes to strengthen in September and October may be underway very soon.
A strong quake and volcano period may begin 8 September.



Content © Roary Arbon 2013 - 2016
Website Design by Go Tech.