Aotearoa Summary. 8 September 2017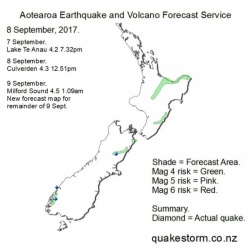 Click to Enlarge

Magnitude 4 risk areas are Fiordland, Culverden, Hanmer, North of Hanmer, Seaward Kaikouras, Kaikoura, Ward, Waima River, Cape Campbell, Eketahuna, Dannevirke, Waipukurau, East Cape, Opotiki, Whakatane, Rotorua, Tokoroa, Taupo, Taumarunui.
Volcanoes quiet.
The forecast period is likely to be extended for several days.
Note. The Lake Te Anau 4.2 7.23pm occurred as this forecast was being processed but is posted onto the map for continuity.
More Fiordland quakes seem likely.
Very strong solar conditions are here and likely to create major global weather disruptions, quakes and new volcanic eruptions next few days.

Summary.
8 September.
Culverden 4.3 12.51pm
Cape Campbell 3.6 7.14pm
9 September.
Northwest of Milford Sound 4.5 1.09am
Quakes in New Zealand and Mexico have come with the big solar shock which arrived on cue.
The Culverden 4.3 was felt as far away as Christchurch.
The outlook for more Fiordland quakes is justiifed with the 9 September Milford Sound 4.5
More action seems inevitable on 9 September, solar quake driving conditions are very high and likely to stay that way through to a new peak late 11 September.
A new forecast map for 9 September is posted.
Magnitudes risks are going up.
Be careful.

Content © Roary Arbon 2013 - 2016
Website Design by Go Tech.