Pacific Summary. 25 September 2017 - 27 September 2017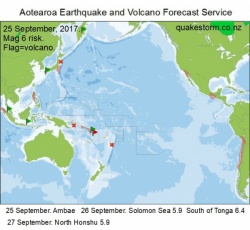 Click to Enlarge

Magnitude 6 risk areas are Northern Vanuatu, Makira, Aceh, Luzon, Southeastern Honshu, Southern California, Baja California, Southern Mexico, Southern Peru, South of Titicaca, Central Chile, Afghanistan, Kashmir.
Volcanic activity may increase.
Ambae, Agung, Sinabung, Sakurajima, Karymsky, Kliuchevskoi.
Quakes and eruptions may build slowly over several days.
September is a very active month so far and this is likely to continue.

Update. 25 September 10.00pm
Pacific quakes were below Mag 6 on 25 September.
Solar quake driving conditions arrived on cue but were weak.
Conditions seem likely to remain subdued until late 28 September.
Volcanoes are a slightly different story.
Vanuatu volcano Ambae (true name Lombenben according to the locals who know best) is in eruption and likely to continue for some time.
Bali volcano Agung is red hot, up to 20000 people have been ordered to leave.
The volcano could erupt anytime, it is ready to blow.
New solar conditions late 28 September could set off an eruption if it hasn't gone off earlier.

Summary.
25 September.
Eruption Ambae (ongoing)
26 September.
Solomon Sea 5.9 8.29am
South of Tonga 6.4 5.20pm
27 September.
Northeast of Honshu 5.9 8.22am
The forecasters should have known better...mild solar conditions in September and October are enough to drive quakes.
The ongoing eruption of Ambae is causing misery as locals flee before the ashfall.
Solar conditions were mild and quakes absent on 25 September, the forecast was dropped.
Quakes then arrived with poor location success.
Bali volcano Agung is red hot. Indonesian authorities have ordered 20000 people into evacuation centers as the volcano rumbles horribly.
Strong solar conditions are here late 27 September.
A new forecast is being processed.





Content © Roary Arbon 2013 - 2016
Website Design by Go Tech.