Pacific Summary. 28 September 2017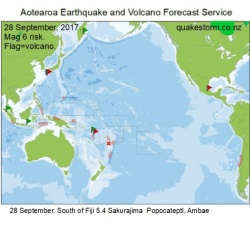 Click to Enlarge

Magnitude 6 risk areas are Kermadec Islands, Southern Tonga, South of Fiji, Southern Vanuatu, Bougainville, Papua, Banda Sea, Southern Sumatra, Molucca Sea, Guam, North of Valparaiso.
Volcanic activity may increase.
Agung, Ambae, Sinabung, Sakurajima, Karymsky.
The eruption of Ambae (native name Lombenben) is ongoing and may increase.
Agung has been on the verge of erupting for several days.
The period is likely to be extended.

Summary.
28 September.
South of Fiji 5.4 10.29am
Eruption Popocateptl, Sakurajima, Ambae/Aoba/Lombenben.
Kermadec Islands and south of Fiji were the biggest Pacific quakes following the arrival of strong new solar conditions.
Minor eruptions also followed.
Agung is venting steam furiously and shaking, 100 000 people are now evacuated.
The entire population of Aoba is now evacuating to other islands as Lombenben builds up more.
Popocatepetl has let off some ash and lava and is linked to the 20 September Puebla 7.1 which flattened many buildings and people in Mexico City.
Popocatepetl was added as an eruption risk following the Puebla 7.1 but has taken a week to become active.
Strong solar quake conditions will continue for several days.
Eruptions and possibly quakes may build up as the period progresses.
New forecast map for 29 September.






Content © Roary Arbon 2013 - 2016
Website Design by Go Tech.