Aotearoa Summary. 12 October 2017 - 15 October 2017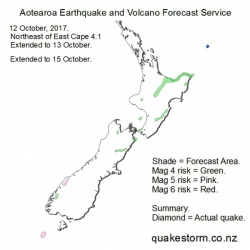 Click to Enlarge

Magnitude 5 risk areas are Snares Islands, Hollyford River, Olivine Ranges, Cascade River, Arawhata River.
Magnitude 4 risk areas are Te Anau, South of Motueka, Culverden, Kaikoura, Ward, Cape Campbell, Seddon, Northern Cook Strait, Upper Hutt, East Taranaki Bight, East of Taranaki, Eketahuna, Dannevirke, Waipukurau, Taumarunui, Tokoroa, Rotorua, Whakatane, Opotiki, East Cape, Tokomaru Bay.
Volcanos quiet.
The forecast period is likely to be extended.

Update. 13 October 12.00am
12 October.
Northeast of East Cape 4.1 8.15am
Moderate solar conditions arrived on cue but local quakes were generally subdued.
A slow buildup is underway.
Isolated Mag 4 quakes are possible 13-14 October while solar conditions persist.
Solar conditions and quakes may peak late on 15 October.

Update. 14 October 8.30pm
Quakes were below Mag 4 on 13-14 October.
Solar conditions are very strong and a substantial Pacific buildup appears to be underway.
The outlook for a quake peak late on 15 October still holds.
Risk locations and Magnitudes are unchanged.

Summary.
12 October.
Northeast of East Cape 4.1 8.15am
This forecast has run into big timing issues.
The 15 October quake peak never arrived.
The long slow buildup is still underway on 17 October.
Quake frequency has picked up last days but low Magnitude.
A new forecast for 17 October will be posted with largely the same locations as this forecast.




Content © Roary Arbon 2013 - 2016
Website Design by Go Tech.