Pacific Summary. 12 October 2017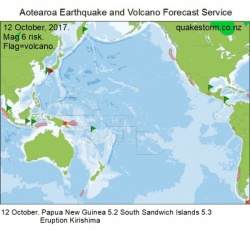 Click to Enlarge

Magnitude 6 risk areas are Macquarie Island, Solomon Sea, Banda Sea, Northern Sumatra, Oregon, Gulf of California, Guerrero, Puebla, Barbuda, Central Peru, South of Concepcion.
Volcanic activity may increase.
Manaro, Lopevi, Agung, Lewotolo, Sinabung, Sakurajima, Kirishima, Shiveluch, Popocateptl, Rincon de la Vieja, Poas, Turrialba.
The forecast period is likely to be extended.

Summary.
Eastern Papua New Guinea 5.2 10.56am
South Sandwich Islands 5.3 4.12pm
Eruption Kirishima.
Quakes were below Mag 6 today but some location success with biggest quakes despite low magnitude.
Volcanoes were apparently quiet although more data may arrive later.
Kirishima seems to be gradually picking up.
Steady solar conditions arrived on cue.
A buildup over several days seems likely.
Isolated Mag 6 activity is possible on 13/14 October.
A quake and eruption pickup is possible late 15 October as the end of the forecast period approaches.
A new map is posted for 13 October.

Content © Roary Arbon 2013 - 2016
Website Design by Go Tech.