Pacific Summary. 13 October 2017 - 14 October 2017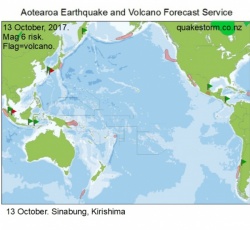 Click to Enlarge

Magnitude 6 risk areas are Macquarie Island, Hihifo, Solomon Sea, Northern Sumatra, Nepal, Eastern Honshu, Fox Islands, Oregon, Gulf of California, Guerrero, Puebla, Barbuda, Southern Chile.
Volcanic activity may increase.
Lopevi, Manaro, Lewotolo, Agung, Sinabung, Sakurajima, Kirishima, Karymsky, Popoctepetl, Rincon de la Vieja, Poas, Turrialba, Nevados de Chillan.
Isolated Mag 6 quakes are possible as the 12-13 October quake period builds towards a peak late on 15 October.
Agung is still quaking but no eruption.
No news for Manaro.
Kirishima seems likely to continue building up.

Summary.
13 October.
Eruption Sinabung, Kirishima.
Pacific quakes were well below Mag 6 on 13-14 October.
The outlook for isolated activity is justified, despite high solar conditions....a difficult forecast decision.
Quakes have increased at Agung on 14 October as pressure builds.
Solar conditions are high, a strong buildup is underway.
The outlook for a quake and eruption peak late 15 October is holding.
A substantial release is possible.
New forecast map for 15 October.

Content © Roary Arbon 2013 - 2016
Website Design by Go Tech.