Pacific Summary. 15 October 2017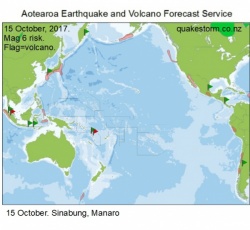 Click to Enlarge

Magnitude 6 risk areas are Macquarie Island, Northern Banda Sea, Northern Sumatra, Molucca Sea, Izu Islands, Southern Honshu, Easten Honshu, Fox Islands, Offshore Oregon, Gulf of California, Guerrero, Puebla, Barbuda, Nazca, North of Valparaiso, Valdivia, Nepal, Karakoram.
Volcanic activity may increase.
Lopevi, Manaro, Lewotolo, Agung, Sinabung, Kirishima, Sakurajima, Suwanosejima, Karymsky, Popocatepetl, Rincon de la Vieja, Poas, Turrialba, Nevados de Chillan.
A significant pressure buildup appears to be underway.
Activity may increase from late 15 October.

Update. 15 October 1.30pm
Kyushu is added to Mag 6 risk areas.

Summary.
Eruption Sinabung, Manaro.
This forecast has run into timing issues.
The late 15 October peak never arrived.
Pacific quakes were quiet.
Tremor at Agung reached a peak on 15 October but no eruption.
The eruption at Manaro is continuous at low level.
Confusion over the naming of Kirishima...the volcano is part of a chain and the erupting volcano seems to be called Shinmoedake.
Chile volcano Villarrica has let off a puff of smoke but nothing else.
Solar conditions are still present on 17 October.
The pressure buildup may still be underway...spectacular aurorae last few days are good visual indication that the Sun is connecting with Earth.
Hurricane Ophelia was powered up to Cat 3 by solar conditions but still near Cat 1 on 17 October as it crosses onto Ireland despite now being over cold water...solar weather driving conditions are still present and keeping the storm spinning.
More info at Facebook/Roary Arbon.
A new forecast will be posted for 17-18 October.


Content © Roary Arbon 2013 - 2016
Website Design by Go Tech.