Aotearoa Summary. 17 October 2017 - 19 October 2017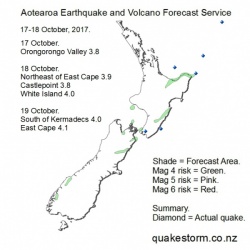 Click to Enlarge

Magnitude 4 risk areas are Te Anau, Cascade River, Olivines, Culverden, Kaikoura, Ward, Lower Awatere Valley, Cape Campbell, Nelson, D'Urville Island, West of Mana Island, South of Taranaki, Eketahuna, Dannevirke, Waipukurau, East Cape, Rotorua, Opotiki, Whakatane.
Volcanoes quiet.
Forecast confidence=low.

Summary.
17 October.
Upper Orongorongo Valley 3.8 7.17pm
18 October.
Northeast of East Cape 3.9 5.39am
Castlepoint 3.8 6.02am
White Island 4.0 10.07pm
19 October.
South of Kermadecs 4.0 4.26pm
East Cape 4.1 8.44pm
This forecast was a low confidence reboot of the 12-15 October forecast which largely fell over when quakes never arrived.
Some areas were pared back from the earlier forecast as the forecasters lost confidence...one of them was Upper Hutt.
The widely felt Orongorongo Valley 3.8 was just south of Upper Hutt.
Quake forecasting can never be a completely accurate science.
The following Castlepoint 3.8 was linked to the Orongorongo 3.8.
Plenty of action north of New Zealand during the period and for a day afterwards.
Mild but persistent solar conditions have kept Kermadecs and Tonga busy 20-21 October.
A new quake period begins early 22 October.




Content © Roary Arbon 2013 - 2016
Website Design by Go Tech.