Pacific Summary. 17 October 2017 - 19 October 2017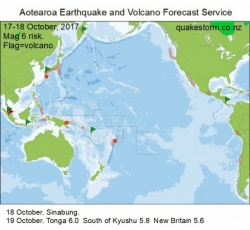 Click to Enlarge

Magnitude 6 risk areas are Southern Tonga, Guadalcanal, New Britain, North Banda Sea, Molucca Sea, Honshu, Kyushu, Offshore Oregon, Gulf of California, Guerrero, Puebla, Central Peru, North of Valparaiso, Barbuda, Western Himalaya.
Volcanic activity may increase.
Manaro, Agung, Sinabung, Sakurajima, Shinmoedake, Kliuchevskoi, Poas, Turrialba.
Forecast confidence=low.

Summary.
18 October.
Eruption Sinabung
Offshore Oregon 4.2 2.30pm
19 October.
Southern Tonga 6.0 1.00am
New Britain 5.6 5.44am
South of Kyushu 5.8 10.02pm
This forecast provided redemption for low activity in the 12-15 October forecast period.
Quakes came late on 19 October but location success was excellent, biggest quakes all in risk locations.
Solar activity is slightly elevated as this summary is posted but may not be enough to drive quakes.
A stronger period is expected on 22 October.

Content © Roary Arbon 2013 - 2016
Website Design by Go Tech.