Aotearoa Summary. 22 October 2017 - 23 October 2017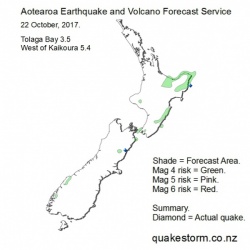 Click to Enlarge

Magnitude 4 risk areas are West of Te Anau, Hollyford River, Olivine Mountains, Cascade River, Arawhata River, Culverden, Cape Campbell, West of Wellington, Orongorongo Valley, Upper Hutt, Castlepoint, Eketahuna, Dannevirke, Waipukurau, East Taranaki, West of Gisborne, East Cape, Opotiki, Whakatane, Rotorua, Tokoroa.
Volcanoes quiet.
The forecast period is likely to be extended.

Update. 22 0ctober 12.30pm
Solar conditions have arrived on cue but are mild.
No Pacific or local quakes so far.
The period seems unlikely to produce a major quake.
This Service has gone bush for a day or two...we're investigating for ourselves reports that some South Island glaciers are advancing rapidly following the huge snowfalls last season.
The Little Ice Age is here.
Updates are unlikely to be posted.
New solar quake and volcano driving conditions arrive on 24 October.
Thanks.

Summary.
22 October.
Southeast of Tolaga Bay 3.5 12.58pm
West of Kaikoura 5.4 5.10pm
Kaikoura got a big shakeup as the biggest Pacific quake on 22 October.
Local quakes were otherwise subdued due to very moderate solar conditions.
Local quakes were quiet on 23 October.



Content © Roary Arbon 2013 - 2016
Website Design by Go Tech.