Pacific Summary. 22 October 2017 - 23 October 2017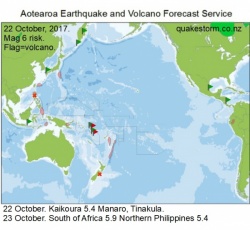 Click to Enlarge

Magnitude 6 risk locations are Kermadec Islands, Tonga, South of Fiji, Fiji, New Britain, Banda Sea, Molucca Sea, Northern Philippines, North of Taiwan, Izu Islands, Northern Peru, Kashmir, Hindu Kush.
Volcanic activity may increase.
Manaro, Tinakula, Agung, Shinmoedake, Ebeko, Karymsky, Popocatepetl, Turrialba, Poas.
The forecast period is likely to be extended.

Update. 22 0ctober 12.30pm
Solar conditions have arrived on cue but are mild.
No Pacific or local quakes so far.
The period seems unlikely to produce a major quake.
This Service has gone bush for a day or two...we're investigating for ourselves reports that some South Island glaciers are advancing rapidly following the huge snowfalls last season.
The Little Ice Age is here.
Updates are unlikely to be posted.
New solar quake and volcano driving conditions arrive on 24 October.
Thanks.

Summary.
22 October.
Kaikoura 5.4 5.10pm
Eruption Tinakula, Manaro.
23 October.
Northern Philippines 5.4 3.21am
South of Africa 5.9 9.32pm
Solar conditions arrived on cue but were mild.
Quake activity was limited...unless you live near Kaikoura.
Vanuatu volcanoes are hot...Lopevi, Ambrym, Manaro and now Tinakula in the Santa Cruz Islands to the north.
Data is scarce but Manaro and Tinakula seem to be low level ash eruptions.
Vanuatu authorities are talking about letting locals go back to some villages on Aoba.
Quake activity fell away at Agung ....still no eruption.


Content © Roary Arbon 2013 - 2016
Website Design by Go Tech.