Aotearoa Summary. 31 October 2017 - 1 November 2017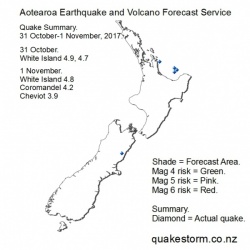 Click to Enlarge

Summary.
31 October.
White Island 4.9 8.35pm
White Island 4.7 8.36pm
White Island swarm.
1 November.
White Island 4.8 11.59am
Cheviot 3.9 1.44pm
North of Whitianga 4.2 3.27pm
White Island swarm.
The Southwest Pacific, Indonesia Mag 7 forecast for 29 October has arrived late.
New Zealand has become very active along with other Pacific areas.
A huge quake swarm at White Island is ongoing.
More action seems likely when new solar conditions arrive on 2 November.



Content © Roary Arbon 2013 - 2016
Website Design by Go Tech.