Aotearoa Summary. 2 November 2017 - 6 November 2017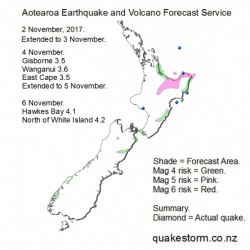 Click to Enlarge

Magnitude 5 risk areas are White Island, Opotiki, East Cape, Rotorua, Urewera, Whakatane, Tokoroa, Taumarunui, Franz Josef.
Magnitude 4 risk areas are Coromandel Peninsula, Tauranga, Tokomaru Bay, Gisborne, Waipukurau, Dannevirke, Eketahuna, Mana Island, Upper Hutt, Turakirae Head, St Arnaud, Seddon, Cape Campbell, Ward, Seaward Kakouras, Culverden, Arawhata River, Cascade River, Hollyford River, Milford Sound, Te Anau.
Volcanic activity at White Island is possible later in the period.
The situation in the Southwest Pacific is volatile. The forecast may be modified at short notice, depending on strength of incoming solar conditions.
Forecast confidence=low.

Update. 2 November 11.30pm
Local quakes were quiet on 2 November.
The quake swarm at White Island slowed down and quakes spread out to other Bay of Plenty risk locations.
Solar conditions were weak, picking up tonight as expected.
Conditions are only moderate but may get stronger or remain steady enough to drive quakes on 3 November.
Risk locations and magnitudes are unchanged.

Update. 4 November 8.00pm
4 November.
Gisborne 3.5 1.22am
Wanganui 3.6 3.02am
Quakes were quiet on 3 November.
Mild activity on 4 November.
This low confidence forecast hasn't got much to recommend it so far.
Solar conditions are present but barely at quake driving level.
The quake swarm at White Island has eased along with all Pacific quakes...the huge Southwest Pacific, Indonesia Mag 6 swarm is past.
Weak solar conditions may persist on 5 November along with increasing lunar modulation.
The period is extended but Mag 5 seems unlikely, lunar modulation usually increases frequency and spreads out quake locations.
Lunar modulation may center quakes around low tide.
Low tide Bay of Plenty = 2am, 2pm.

Update. 5 November 11.00pm
4 November.
East Cape 3.5 10.05pm
5 November.
South of Fiordland 3.4 8.56am
The East Cape 3.5 came a few minutes after the Tonga 6.8.
Local quakes are otherwise very subdued.
Solar conditions are now weak.
Lunar conditions are strong but probably not enough to drive local quakes on 6 November.
New solar quake driving conditions due late 7 November should see a pickup in local quakes.

Summary.
4 November.
Gisborne 3.5 1.22am
Wanganui 3.6 3.02am
East Cape 3.5 10.05pm
5 November.
South of Fiordland 3.4 8.56am
6 November.
Hawkes Bay 4.1 2.49am
North of White Island 4.2 7.40pm
This low confidence forecast came with only moderate activity.
Local and Pacific quakes were sluggish right through the period.
The 4 November East Cape 3.5 coming just minutes after the big Tonga 6.8 will keep the sceptics guessing.
Quakes went quiet on 5 November, the 6 November Hawkes Bay 4.1 just outside the period.
White Island is still slowly swarming on 7 November as a new quake period arrives.


Content © Roary Arbon 2013 - 2016
Website Design by Go Tech.