Aotearoa Summary. 19 November 2017 - 22 November 2017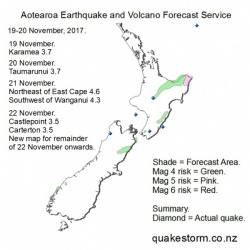 Click to Enlarge

Magnitude 5 risk locations are East Cape, Raukumara Ranges, Tokomaru Bay.
Magnitude 4 risk locations are Opotiki, Whakatane, Rotorua, Tokoroa, Taumarunui, Urewera, Waipukurau, Dannevirke, Eketahuna, Castlepoint, Upper Hutt, Northeast of Seddon, Cape Campbell, Kaikoura, Seaward Kaikouras, Upper Clarence, Upper Awatere, Hanmer, Culverden, Olivine Ranges, Milford Sound, George Sound, Doubtful Sound.
Quakes are likely to increase late on 20 November.
The forecast period is likely to be extended.

Update. 19 November 11.30pm
19 November.
Karamea 3.7 10.30pm
The Karamea 3.7 came five minutes after the New Caledonia 6.4.
The quake seems to fit the seismologists description of a "ghost quake."
Note: This Service doesn't believe in "ghost quakes." Quake energy, just like any form of energy, migrates and will trigger other quakes. Identifying these quake pathways is how forecasts are made.
Solar conditions were present but weak today.
Solar conditions are expected to pick up strongly late 20 November.

Summary.
19 November.
Karamea 3.7 10.30pm
20 November.
Taumarunui 3.7 1.11am
21 November.
Northeast of East Cape 4.6, 9.05am USGS
Southwest of Wanganui 4.3 6.36pm
22 November.
Castlepoint 3.5
Carterton 3.5 6.46am
This Service was offline 20 -21 November.
Quakes are slowly building during the early part of the quake period.
The biggest southwest of Wanganui was a risk location in the previous forecast period and likely to be residual activity.
Southern Wairarapa is becoming active.
Solar conditions are steady on 22 November.
Mag 4 activity is possible next two days, building to a peak on 24 November.
A new forecast map will be posted for the remainder of the period.




Content © Roary Arbon 2013 - 2016
Website Design by Go Tech.