Pacific Summary. 19 November 2017 - 21 November 2017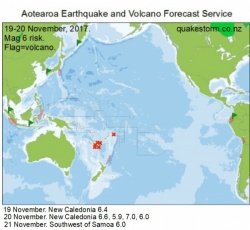 Click to Enlarge

Magnitude 6 risk areas are Kermadec Islands, South of Kermadec Islands, Molucca Sea, South of Japan, Southern Ecuador, Atacama, Vallenar.
Volcanic activity may increase.
Sinabung, Sakurajima, Ebeko.
Activity may increase late 20 November.
The forecast period is likely to be extended.

Update. 19 November 10.30pm
19 November.
East of New Caledonia 6.4 10.25pm
Solar quake driving conditions were present but weak and only enough to drive one isolated quake.
No location success...many locations from the previous quake period were dropped including New Caledonia.
The Ecuador Mag 6 risk location is dropped.
Ecuador volcano Reventador is retained as an eruption risk.
An potentially strong increase in solar activity is still possible late 20 November.

Summary.
19 November.
East of New Caledonia 6.4 10.25pm
20 November.
East of New Caledonia 6.6, 5.9, 7.0, 6.0
21 November.
Southwest of Samoa 6.0
This Service was offline 20-21 November.
The Pacific has gone to Mag 7, justifying the outlook for October and November to be very busy months.
The outlook for a strong increase in solar activity and quakes on 20 November is justified.
Forecasted risk locations were way too light in the Southwest Pacific. The big quakes were expected as the period closed in a few days but have come earlier.
Volcanoes are hot.
Shiveluch, Popocatepetl, Fuego, Sinabung all throwing ash.
Bali volcano has had a minor ash eruption.
No news for Manaro.
Bigger eruptions seem likely next few days near the end of the forecast period.
A new map will be posted for the remainder of the forecast period.


Content © Roary Arbon 2013 - 2016
Website Design by Go Tech.