Aotearoa Summary. 28 November 2017 - 1 December 2017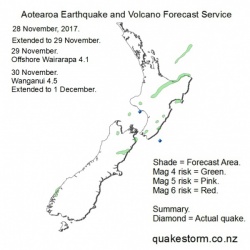 Click to Enlarge

Magnitude 4 risk locations are Northwest Arm Te Anau, George Sound, Milford Sound, Cheviot, Culverden, Kaikoura, Seaward Kaikouras, Cape Campbell, Seddon, Northeast of Seddon, South of Motueka, South of Taranaki, East of Stratford, Southern Wairarapa, Upper Hutt, Castlepoint, Eketahuna, Dannevirke, Northern Hawkes Bay, Taumarunui, Tokoroa, Rotorua, Urewera, Opotiki, East Cape, North of White Island, North of East Cape.
Volcanoes quiet.

Update. 28 November 11.00pm
Local quakes were under Mag 4 on 28 November.
Solar quake driving conditions arrived on cue but were too weak to drive any activity.
A slight buildup may be underway as mild quake driving conditions are set to continue on 29 November.
Isolated Mag 4 activity is possible on 29 November.
Rimutaka Ranges, Castlepoint are higher risk locations.

Update. 30 November 11.00pm
29 November.
East of Wairarapa 4.1 10.50am
30 November.
West of Wanganui 4.5 12.33pm
No update was posted for 30 November.
Solar conditions were right on the threshold for driving quakes.
The 30 November Wanganui 4.5 was widely felt.
Solar conditions have picked up again late 30 November but are only moderate. Very tricky forecasting conditions.
A moderate buildup could be underway.
Isolated Mag 4 quakes are possible on 1 December.

Summary.
29 November.
East of Wairarapa 4.1 10.50am
30 November.
West of Wanganui 4.5 12.33pm
The forecast tried to pick out South Wairarapa activity... a quake came offshore.
Quakes were only moderate during the period unless you live in Wanganui.
Quakes went quiet on 1 December as solar conditions faded away and stayed quiet until 6 December.





Content © Roary Arbon 2013 - 2016
Website Design by Go Tech.