Pacific Summary. 28 November 2017 - 4 December 2017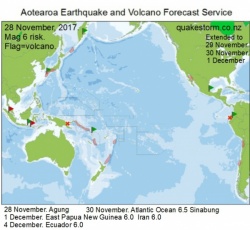 Click to Enlarge

Magnitude 6 risk areas are South of Kermadecs, Kermadec Islands, Pangai, Southern Vanuatu, Santa Cruz Islands, Guadalcanal, Bougainville, Central Kuril Islands, Atacama, Valparaiso.
Volcanic activity may increase.
Agung, Manaro, Sakurajima, Shiveluch, Popocatepetl, Reventador.
The solar peak forecasted for 28 November is here.
The period is an extension to the heavily volcanic 23-27 November period.
Eruptions seem likely to dominate.
The eruption of Agung seems likely to increase.

Update. 28 November 11.30pm
28 November.
Eruption Agung.
No solar peak on 28 November, solar conditions arrived on cue but never built up and were too weak to drive quakes.
Agung was the only exception.
The eruption was steady today, the volcano blew ash and steam all day.
Denpasar airport seems likely to stay closed. Ash is drifting south from the volcano and over Bali.
Tremor began at Agung today and is a clear signal that bigger action is on the way next days or weeks.
Solar conditions are expected to be mild on 29 November but may be enough to create an isolated Mag 6 quake or an eruption.

Update. 30 November 10.00pm
29 November.
Eruption Sinabung
30 November.
Central Atlantic Ocean 6.5 7.32pm
An update was never posted for 29 November.
Solar conditions were right on the threshold for quakes and eruptions.
The forecast lost confidence and didn't get posted.
The Agung Update posted 30 November on Facebook/Roary Arbon gave an outlook for isolated Pacific activity.
Solar conditions picked up late 30 November, the Atlantic Ocean 6.5 followed.
Solar conditions are still very moderate but may be able to drive more isolated quake activity.
Baja California, Kyushu, Southern Honshu are added to Mag 6 risk areas.
Agung is quiet.
Despite news going mad on the eruption and predicting an imminent massive explosion, the volcano has settled.
Anything to sell a story.
Solar conditions just don't seem strong enough to drive anything more than a minor eruption at Agung.

Summary.
28 November.
Eruption Agung.
29 November.
Eruption Sinabung
30 November.
Central Atlantic Ocean 6.5 7.32pm
1 December.
Central Iran 6.0 3.32pm
Eastern Papua New Guinea 6.0 3.50pm
4 December.
Pedernales/Ecuador 6.0 12.19am
This low confidence forecast was an extension to the 23-27 November forecast.
A solar and quake peak was forecasted for 28 November but the incoming solar conditions were much weaker than expected and had little immediate effect.
Moderate solar conditions picked up on 30 November, three big quakes followed.
The East PNG 6.0 was near to the zone but all other quakes weren't on the forecast radar.
The Pedernales 6.0 was an aftershock to the 17 April, 2016 Ecuador 7.8. (See 16-18 April, 2016 Pacific Summary)
Agung settled a little following the 26 November ash eruption.
Harmonic tremor and quakes indicate that plenty is going on inside Agung.



Content © Roary Arbon 2013 - 2016
Website Design by Go Tech.