Aotearoa Summary. 18 December 2017 - 21 December 2017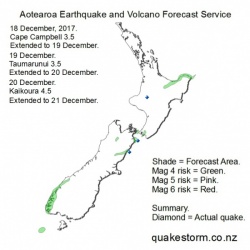 Click to Enlarge

Magnitude 4 risk areas are Rotorua, Opotiki, East Cape, Northern Cook Strait, Rimutaka Ranges, Orongorongo Ranges, Northeast of Seddon, Cape Campbell, Ward, Kaikoura, Seaward Kaikouras, Culverden, St Arnaud, Cascade River, Hollyford River, Western Fiordland, Snares Islands.
Volcanoes quiet.
The forecast period is likely to be extended.

Update. 18 December 11.30pm
Cape Campbell 3.5 2.38pm
Solar quake driving conditions arrived on cue but Pacific quakes are slow to respond...the period may be volcanic.
Isolated quake activity seems likely on 19 December, picking up on 20 December as the period progresses.

Update. 19 December 11.30pm
19 December.
Taumarunui 3.5 7.29pm
Quakes were subdued on 19 December.
Solar conditions switched off for most of the day.
The forecast period still has at least one day to run.
Local quakes may increase on 20 December.

Update. 21 December 12.00am
20 December.
Kaikoura 4.5 12.48am
Local quakes increased on 20 December but action is very moderate.
Solar quake driving conditions picked up on 20 December but aren't strong.
Solar conditions for quakes are still present so a buildup could be underway.
Local quakes, if any, seem likely to be isolated on 21 December.
Interesting new solar conditions, possibly linked to the rare pink auroras during the period may have some effect...or not.
Confidence= low.
New solar conditions and following quakes are due on 22 December.

Summary.
18 December.
Cape Campbell 3.5 2.38pm
19 December.
Taumarunui 3.5 7.29pm
20 December.
Kaikoura 4.5 12.48am
Local and Pacific quakes were sluggish during the period.
The Pacific was mostly volcanic.
The December/January "quiet" solstice period is here, following the typically active Sept/Oct/Nov equinox period.
The forecast was expecting higher local activity although location success was reasonable.
New solar quake driving conditions are due on 22 December.


Content © Roary Arbon 2013 - 2016
Website Design by Go Tech.